The Jesus Wife controversy – Claiming Forgery with No Proof
I thought that Karen King of the Harvard Divinity School and Professor Roger Bagnall of Columbia University (one of the top three papyrologists in the world), were beyond the accusation of forgery on the "Jesus Wife Papyrus". But, alas, just as with the late Professor Morton Smith and collector Oded Golan, the vultures have come out in full force arguing that the papyrus is a forgery.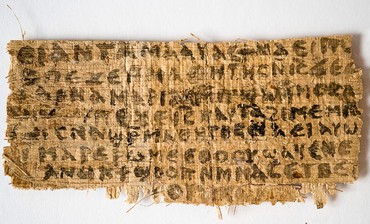 So far, they are not accusing King and Bagnall of forgery. They are simply saying that King and Bagnall were fooled by a modern forger, who is smarter than both of them. And what do they base this theory on? Nothing! It seems – surprise, surprise – that the fragment is similar to other non-canonical gospels e.g., the Gospel of Thomas.
So what? If that was a criterion for forgery, all the canonical gospels would have to be disqualified as ancient forgeries since they all resemble each other. This is pure nonsense, but it's what the professional naysayers do. The sleeper agents of Christian orthodoxy i.e., the theologians masquerading as objective scholars, kick into action whenever their theology is threatened. They've learned the trick: shout "forgery!" often enough, repeat it on the internet ad nauseam and on various blogs manned by C-list scholars, and pretty soon you've got everyone ignoring the content of the new discovery and focusing on whether it's real to begin with. Add a couple of charges of "sensationalism" and you're set.
But here's the scoop: the naysayers are losing this war. 1,600 years ago one group of Christians decided that theirs is the only legitimate version of Christianity. They impaled their opposition and they burned their texts. Thereafter, anything that contradicted the official version became first "heresy" and now "forgery". It would have been a perfect crime except for archaeology and that terrible bugaboo – a free press. They keep resurrecting the voices of the dead. And the story they tell is not only not a "forgery," but it's what the rest of us call "history".