Simcha comments on front page Ha'aretz article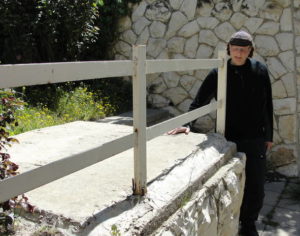 I sat back to relax on the airplane this morning on my Tel Aviv to Rome flight, when I couldn't help but notice that my face was on the front page of the Israeli daily Ha'aretz. The Ha'aretz story (see at the bottom) concerns my lawsuit against Joe Zias, former employee of the Israel Antiquities Authority. Since 2003 Zias has been upset with me, hounding me around the globe. For example, when I was recently appointed an adjunct professor at the University of Huntington in Ontario, he immediately contacted the department head to see if I was lying and when she confirmed that I am, indeed, an adjunct professor in the department, he contacted the president of the university to tell him that they made a big mistake. He disagrees with everything I do and, frankly, he has a right to. He is not a trained archaeologist, nor is he a trained forensic anthropologist as he claims to be. But in a democratic society he's free to express whatever opinion he wants. Zias has gone beyond that, however. In the last few years he has accused several leading archaeologists e.g., the late, legendary Professor Hanan Eshel and Professor Richard Freund, head of the department of Judaic Studies at Hartford University of "planting archaeology" at Qumran. The list of people that he accuses of criminal or near criminal activity includes Professor James Tabor, BAR editor Hershel Shanks, geologist Paul Bauman, and former curator of the Dead Sea Scrolls Magen Broshi. A few years ago, Zias decided to include me in this prestigious group of people he libels. He accused me of "forging" archaeology, "planting" archaeology, and "inventing" Holocaust stories. As a child of Holocaust survivors, as an award-willing journalist and as a human being, I decided I had enough. Freedom of speech ends where libel begins.
To defend himself, Zias is trying to turn the libel trial into a media circus about free speech. Hence, the article in Ha'aretz. As far as I'm concerned, this is a non-story. It has nothing to do with archaeology or academia. I'm totally committed to free speech. It's precisely because I believe in free speech that I also believe that people shouldn't be shut up by fear of libel from people like Zias. What I've learned over the past few years is that in the world of Biblical and New Testament archaeology, the guardians of the "truth" demonize, ostracize, marginalize and defame people they disagree with. As a result, people who disagree with the mainstream are cowed into silence. My libel case against Zias is a defense of free speech. I hope it will demonstrate to those who use libel as a tool of intimidation that there are redlines that should not be crossed.