First publicized in March, 2012
I have had a chance to peruse the responses to our press conference and book launch (The Jesus Discovery, Simon & Schuster) for the first time. I am preparing a longer article, but in the meantime I just wanted to contextualize the discussion.
I am not surprised by the quick and personal attacks by various scholars i.e., accusing us of "hijacking" archaeology, "sensationalism" etc. We've heard it all before and I guess some people can't get off that track, including the accusation that we released our book to coincide with Easter–never mind that it was released in February and Easter is in April. Frankly, what surprises me is how quickly the negative tone was diffused and how the discussion is veering towards scholarly debate instead of ad hominem slander. The reason I'm surprised is because, generally, there is an iron rule that applies to Jesus related archaeology: everyone is wrong, about everything, all the time. Some would like to portray the controversy over the "Jesus Family Tomb" in Talpiot as one between serious scholars and sensationalists such as myself. But let's put this into a historical context.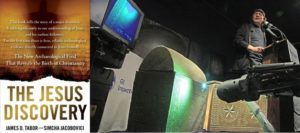 Prof. Tabor and I are not the first people to connect Jesus to Talpiot. In 1945, Eleazer Sukenik, who was the first to identify the Dead Sea Scrolls as being authentically from the Second Temple Period, discovered a tomb off Hebron Road in Talpiot, approximately 1,000 meters from the now famous "Jesus Family Tomb." In the tomb, there were two ossuaries with the word "Jesus" inscribed on them in charcoal. According to Sukenik, one inscription read "Jesus Woe" and the other "Jesus Aloth," which Sukenik interpreted as lamentations for the crucifixion of Jesus. Immediately, the scholarly and Christian community was up in arms. It turns out that Sukenik was wrong on both counts. The ossuaries were not referring to Jesus of Nazareth. Rather, there were two guys named Jesus buried right next to each other. And the first ossuary did not say "Woe," it said "Ju" which was an unfinished version of "Judah." Moreover, "Aloth" did not refer to lamentation but to "Aloe." Maybe the person interred in the box was in the Aloe distribution business. As for why a scholar of Sukenik's stature got it so wrong, just recently I heard a top scholar say in a room full of other scholars "Sukenik's wife needed a refrigerator." So I guess he just sensationalized for the purpose of making money.
In 1973, Prof. Morton Smith–arguably one of the top New Testament scholar at the time – claimed to have found a previously unknown letter of Clement of Alexandria that quoted an unknown version of the Gospel of Mark. Smith had found the fragment years before and had worked on it for over a decade, making sure that he lined up top scholars prior to publication. But that did not help him. His career went down in flames and he was accused of forging the document. As recently as 2010, York University in Toronto sponsored a conference dedicated to the question of Smith's possible forgery.
Franciscan archaeologist, Bellarmino Bagatti, pointed to much "Judeo-Christian" archaeology in Jerusalem e.g., at the site of Dominus Flevit, but each assertion was met with universal disdain. Like Sukenik and Smith before him, Bagatti was wrong about everything all the time. Not only that, every reading of any inscription that can be linked to Jesus is retroactively changed once a connection with Jesus is established. So, for example, the ossuary that reads "Shimon bar Yonah" i.e., the disciple Peter's name, sits neglected in the Franciscan museum at the second station on the Via Dolorosa. After I publicized its existence in a 2007 film, scholars began to debate whether, in fact, it says "bar Yonah" after all. In the 1970s Prof. Pau Figueras published an inscription on a small fragment on an ossuary in the IAA warehouse of unknown provenance. It has the name "Jesus" inside a fish complete with tail and mouth. He was immediately roundly attacked. It turns out the "Jesus" in this inscription is not Jesus of Nazareth but, rather, another Jesus buried in the ossuary. And the fish is not a fish, it's not even a Nephesh tower or an amphora or even a perfume bottle, it's merely a carelessly drawn circle. As for Prof. Figueras' interpretation, well, in Levi Rahmani's words "…the inferences drawn by Figueras [are] excessive."
When it comes to crosses, the story is the same. No cross is a cross if it's connected to Jesus. For example, one of Sukenik's "Jesus" ossuaries had charcoal crosses on all four sides. As it turns out, these are not crosses. They are "mason's marks." Never mind that masons work in stone, not charcoal. Nevermind that a mason's mark on an ossuary is meant to line up a lid to a box and serves no purpose on all four sides. Sukenik didn't know the rule. When it comes to Jesus, everyone is wrong about everything all the time.
Which brings us to our latest discoveries and some of the over-the-top-criticisms. In 2007, when we investigated the "Jesus Family Tomb" we were criticized for doing it in the context of a film and not a proper dig. This time, our investigation was under an excavation license issued by the IAA. We had not one but two sponsoring universities – UNC Charlotte and the University of Nebraska. There was an IAA archaeologist on site all the time. The license was jointly held by not one, but two scholars, Prof. James Tabor and veteran Israeli archaeologist Rami Arav. All under the sponsorship of Prof. Janet Levy, Chair of the Department of Anthropology at UNC Charlotte and Chair of the Archeology division of the American Anthropological Association. Pretty solid I would say, but not good enough for some of the contributors to this site who continue to accuse us of "sensationalism" and other badly motivated behavior. Last time we were accused of not having a peer-review process. This time, Prof. Tabor published an academic article on bibleinterp.com and at least 10 academics made formal reports on our findings prior to publication. We incorporated all of their suggestions in our book, upcoming film, website and press material. Not good enough. In fact, some of the very academics that were consulted have revised their opinions and are now attacking us on the internet and in media interviews.
The fact is that what we found is unprecedented whether you call our Jonah image a pillar, an amphora or a perfume bottle. In the words of Yuval Baruch, Jerusalem District Head of the Israel Antiquities Authority, "there's nothing else like it on an ossuary." We also found a statement of faith. But even if you say it's not about resurrection, but some kind of exaltation or testament to an ascension of some kind, there is simply nothing like it on any of the thousands of ossuaries cataloged so far. Again, those are the words of Yuval Baruch. It doesn't help to say that many Jews believed in resurrection. They didn't record their statements on their ossuaries. The statement is unique. Furthermore, the archaeological context is attested. Like it or not, these two tombs are linked and set apart from the rest of the Talpiot necropolis. That's not my opinion, that's the opinion of Dr. Natalie Messika, an expert in archaeological mapping often under contract with the IAA. As for the linkage to early followers of Jesus, the fact is that whoever made those pictures and wrote that inscription was sectarian and not normative. Jews did not–and do not–write the Tetragrammaton on a bone box filled with "tumah" or impurity. I know that there is an attempt to re-read the second line in the inscription, but the reading was confirmed repeatedly by major scholars, including Prof. Rollston who is now revising his opinion. It's OK to change one's mind. All I'm saying is that the vast majority of scholars see the ineffable name inscribed in the second line.
Had we found a cross we would have been told that the cross is not a Christian symbol in the 1st century. The fact is we found a 1st century cross! Had we found nothing else we would have been told that we should have found a fish, if we thought the tomb was linked to the early Jesus movement. But we found a fish! If that's all we had found, we would have been told that we should have found a "Jonah." We found a Jonah! But for some, the iron rule is the golden rule. When it comes to Jesus; everyone is wrong about everything all the time. So the cross is not a cross, the fish is not a fish, the Jonah is not a Jonah and now even the "Jehovah" inscription doesn't say "Jehovah."
For the record, we spent 5 years and a lot of money and effort to excavate this tomb. Never before have the IAA and the Haredi activists agreed to work together on the excavation of a 1st century Jerusalem tomb. We built a robotic arm that has pushed the envelope of Jerusalem based archaeology. We had absolutely no guarantee that we would find anything, but we did. And now it's time for a reasoned and scholarly debate. Many top scholars have weighed in stating that this is a very significant find including Prof. James Charlesworth and Prof. John Dominic Crossan. If scholars stop attacking each other personally, more will go on record. Furthermore, it's time to review, in light of the new findings, the archaeology previously dismissed. Maybe everyone's not wrong about everything all the time. Maybe we actually found something significant this time. And maybe significant archaeology related to the early Jesus followers has been hiding, for decades, in plain sight.