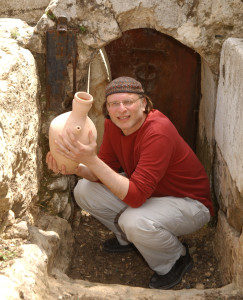 Only a few weeks left before the first ever "Naked Archaeologist" trip of Israel begins. You can still sign up now!
That's right, the "Naked Archaeologist" is back. I'm going back into character, putting on my hiking boots, and trekking with a bunch of travelers around the land of Israel this December 4-15.
This tour will be much different than your average tour. My group will be staying in quality places and getting into the real nitty gritty of what the Land of Israel is all about—ancient and modern!
By my side will be an excellent licensed tour guide named Eitan Chamberlin who has an M.A. in Biblical Archaeology from the Hebrew University. He also happens to own Samson Tours and he's going to make sure that everyone is taken care of 100% and exceed your expectations.
First of all, we're going to have some fun. We'll be riding on camels, eating like Bedouin, swimming in hot springs, tunnel crawling through ancient caves, excavating at an archaeological site, and sifting through archaeological materials from the Temple Mount. I'm even going to introduce you to some good friends of mine along the way (even if some of them are mainstream scholars).
Second of all, we're going to be visiting several of the places where I've filmed including the Jesus Family Tomb (Talpiot Tombs), the Abbas Cave, Bethlehem of the Galilee, the tomb of Honi the Circle Maker, and unique spots around Qumran, Capernaum and many others. All in all we'll visit around 100 biblical sites on the tour, so even if you've been to Israel before you'll see it in a completely new light!
Third of all, we're going to be staying at some amazing hotels. Just check out some of the spots: Dor Nahsholim (Boutique Rooms) on the Mediterranean Sea, Nof Ginosar (Grand Deluxe Rooms) on the exclusive edge of the Sea of Galilee, Daniel Dead Sea on the Dead Sea that has its own indoor Dead Sea Pool and Spa that we'll use, and the beautiful Dan Jerusalem Hotel that has vistas that look right out onto the Temple Mount.
My tour is for all ages. If you can't physically do something, you'll be able to split off with Eitan or on your own and see another interesting part of the site or just chill out on the luxury motor coach. All in all it's going to be a flexibly-run tour, with High 4-Star hotel accommodations and an excellent ground team to take care of your every need.
If you have ever thought about one day coming to Israel, stop procrastinating. I can't guarantee that I'll ever lead another tour to Israel. So it's advisable for you to get registered and pick up one of the last available spaces.
Click the following link to read more or call Samson Tours directly to get more information: 352-414-5991.
http://samsontours.com/group-tours/1134-the-naked-archaeologist-israel-tour-2016
Last chance. Join my Naked Archaeology tour today!