James Cameron and Simcha Jacobovici Search for Atlantis
After three weeks of shooting, I just landed in Israel from the Azores and was greeted by a ton of publicity.
——————————————-
Nat Geo, Discovery Canada prep "Search for Atlantis"
By Daniele Alcinii on RealScreen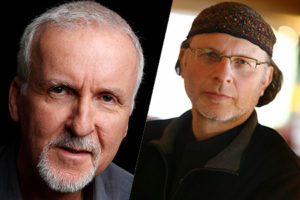 National Geographic Channel and Discovery Canada have greenlit three-time Emmy Award-winning director Simcha Jacobovici's (pictured, right) forthcoming documentary, Search for Atlantis.
Produced by Toronto-based Associated Producers and exec produced by James Cameron (left), the two-hour doc special will follow an exploration team as it investigates evolving theories about where Atlantis was actually located and who inhabited the mysterious city, as well as the type of disaster that might have sank the city more than three millennia ago.
Principal photography on the film is underway in Sicily, Malta, Crete, Santorini and Sardinia, with underwater portions being shot off the coast of Spain.
Search for Atlantis, which is slated to premiere internationally this winter, marks the follow up to National Geographic Channel, Discovery Canada and Associated Producers' Finding Atlantis, which aired in 2011.
Yaron Niski will serve as executive producer on the film alongside Cameron. Jacobovici and Felix Golubev, meanwhile, serve as producers. Ken MacDonald, GM and VP at Discovery Networks Canada, is a production executive.
"We are excited to partner with Cameron and Jacobovici for the quest to find Atlantis, one of the magical worlds that has resonated in our collective imaginations for thousands of years," said Tim Pastore, president of original programming and production, National Geographic Channel, in a statement.
"The first part of this investigation made for a particularly timely special, drawing a large viewing audience when we aired it in 2011," said MacDonald in a statement. "Discovery's Canadian audiences are still just as intrigued by iconic mysteries, and this expanded investigation into the facts behind the myth in Search for Atlantis more than fits the bill."
——————————————-
Other selected press:
Hollywood Reporter
Deadline
IndieWire
Toronto Star
Broadcaster Magazine
Bell Media
Multichannel News
TBI Vision
Hindustan Times
TV3 Expose?