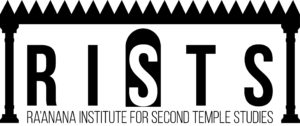 For anyone interested in archaeology, Second Temple Judaism and the origins of Christianity, a new era has begun.
In the spirit of free, open and responsible discussion, we have organized a symposium on "Second Temple Judaism and Emerging Apocalyptic Movements". It will take place in Ra'anana, Israel, just outside of Tel Aviv, on July 6th and 7th, 2015. The topic may sound overly "academic" but it's as close to you as the symbolic substructure of your mind. Why? Because out of this period came rabbinic Judaism, Christianity and, a bit later, Islam. What happened in ancient Judea during the late Second Temple period to create this theological big bang? Professor James Tabor, for example, will be talking about "How Enochian Judaism Transformed the World". What's "Enochian Judaism"? Well the Book of Genesis speaks of a man named Enoch who "walked with God, and he was not; for God took him" (Genesis 5:24; see also Hebrews 11:5). Based on this Biblical statement, in the late Second Temple period, people in Israel concluded that if "a man walks with God", he can become more than a man, he can avoid death and rise to heaven. Out of Enochian Judaism, Christianity was born. Never heard of this? That's why we're having the symposium.
Click on the images below to view the full agenda. If you are in Israel and want to attend it's 250 NIS (shekels) for one day, 300 NIS for the full two days. This fee includes light breakfast and light lunches. If you are interested in coming please contact Karen at apisraeloffice@gmail.com by July 1st.
If you want to financially support this breakthrough event, here is a link to our Kickstarter campaign. All contributions are more than appreciated: https://www.kickstarter.com/projects/1494593976/a-free-and-open-discussion